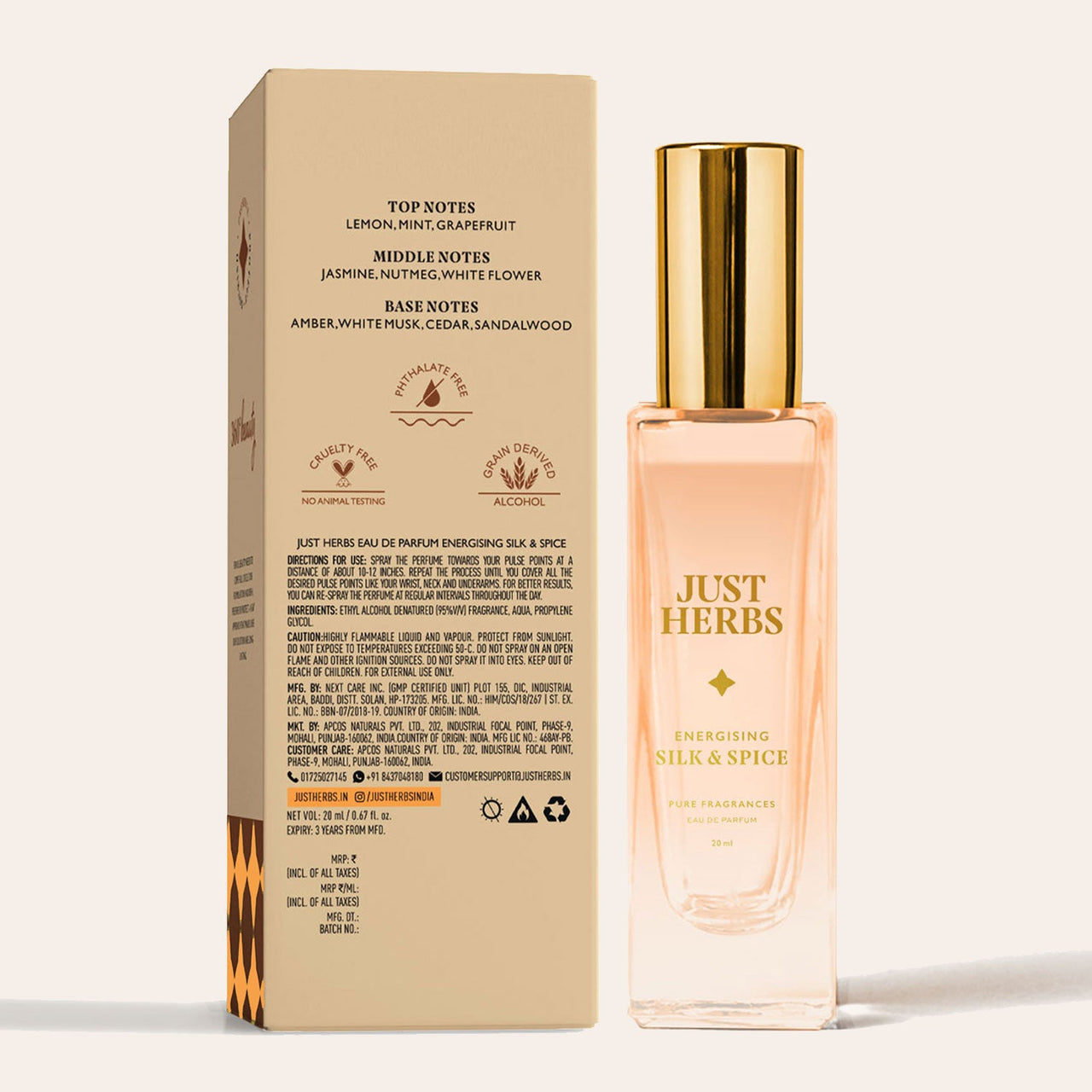 OFFERS
INGREDIENTS
HOW TO USE
DETAILS
Key Ingredients:
Energizing Forest Wood Eau De Parfum:

Top Notes: Orange, Raspberry, Olibanum
Heart Notes: Oud, Vetiver, Sandalwood
Base Notes: Amber, White Musk, Tonka Bean

Energizing Silk and Spice Eau De Parfum:

Top Notes: Lemon, Mint, Grapefruit
Heart Notes: Jasmine, Nutmeg, White Flower
Base Notes: Amber, White Musk, Cedar, Sandalwood
Full List of Ingredients:
ETHYL ALCOHOL (95%v/v) (DERIVED FROM GRAINS) DENATURED WITH TERT. BUTYL ALCOHOL & DENATONIUM BENZOATE, AQUA (D.M WATER), PERFUME. ALCOHOL CONTENT: 80%w/w.
Step 1: Spray the perfume towards your pulse points at a distance of about 10-12 inches.
Step 2: Repeat the process until you cover all the desired pulse points.
Step 3: To increase staying power, apply the fragrance periodically throughout the day.
Net weight (Each): 20 ml
Name of Mfg. / Importer / Brand: AROMA DE FRANCE 324 VILL RANU. TAPADRA DISTT VADODARA, GUJARAT 391445, INDIA. MFG LIC NO. M GC/942
Address of Mkt. / Importer / Brand: APCOS NATURALS PVT. LTD. , Plot No. 202, Industrial Focal Point, Phase – 9, Mohali (160062), Punjab, India.
Expiry Date: 3 years from Mfd. date
Country of Origin: India
FAQs
Phthalates are a group of chemicals used to make perfumes last longer however, they could be potentially harmful as they are considered to be carcinogenic and tumor-promoting agents. Our pure fragrances are derived from clean and natural ingredients. We use Ethyl Alcohol (the only grain-derived alcohol that is safe to consume) and modify it with Tert. Butyl Alcohol instead of DEP (the most commonly used phthalate), to make it phthalate-free & absolutely safe to use.
Grain-derived alcohol also known as Ethanol is derived from natural grains including wheat, rice & sugarcane and unlike synthetic alcohol it has no other additives. It doesn't cause irritation on the skin & doesn't evaporate quickly hence, making it more long-lasting.
We create products that embody our all-encompassing approach to preserve, protect and nourish, creating long-lasting beauty that starts from within.
FULL INGREDIENT
DISCLOSURE
CRUELTY
FREE
FREE FROM HARMFUL
CHEMICALS
Long Lasting Eau de Parfum - Forest Wood & Silk and Spice
Long Lasting Eau de Parfum - Forest Wood & Silk and Spice
Long Lasting Eau de Parfum - Forest Wood & Silk and Spice
Likes:
More range of Fragrance for Men
Improvements:
Cost & packaging
Forest Wood Is Awesome
Very Nice & Natural Different Fragrance
Free Shipping All Over India On Prepaid Orders
COD Available @ Rs.50 Per Order